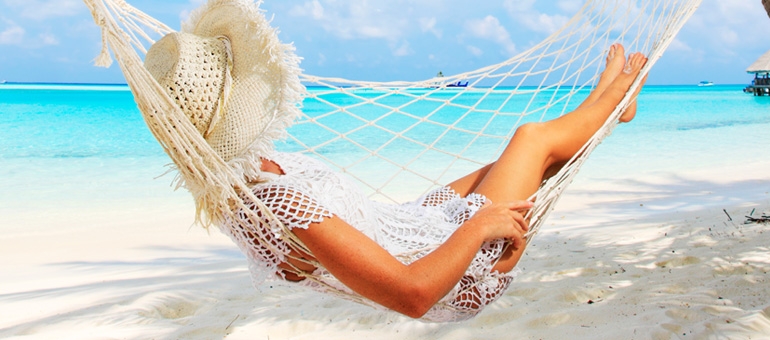 The Maldives
The Maldives evoke dreams of leaning palm trees, calm turquoise seas, shallow lagoons, endless sandy beaches and magnificent beach hotels and resorts providing a paradise for water sports and diving. The islands' main attractions lie beneath the surface of the warm waters that lap the beautiful beaches of the Maldives. The coral reefs of Maldives are considered by many experts as some of the best in the world.

The Maldivian Archipelago with 26 atolls has about 1200 coral islands. The total land area of the Maldives measures approximately 298 square kilometers making it the smallest country in Asia. The islands lie along a chain of atolls that stretches 823 km north to south, 130 km wide and covering over 90,000 square kilometers of the Indian Ocean. The Maldives resorts cover 200 of the 1250 islands.

What makes The Maldives so special to attract so many of the World's most sophisticated travellers to return time and time again over the years?

It is the ultimate combination of the beautiful nature with the clearest waters of the world; the marvel of the coral reefs with the thousands of underwater species in dreamlike colours, ideal for snorkelling and diving; the climate where a light breeze guarantees all year round perfect temperatures and last but not least the people serving you who are proud to make your stay an unforgettable experience in resorts which are set up to trigger your finest senses of luxury and comfort.

The Maldives offer all these aspects of a more than perfect life style with its central location in the world. So no wonder that a lot of people keep returning to enjoy these paradisiacal circumstances over and over again. Together with tourists from all over the world this makes a very international community where you will feel immediately at home!

That is also the reason that the Maldives are considered by many as one of the most luxury and expensive destinations in the world. For many young couples dreaming about their honeymoon, the Maldives is always one of their favourites... and for all others it is obvious that The Maldives are what life is all about, get away from it all, enjoy and relax!